Photographer Xavier Portela's shots of Kyoto, Japan, at night give a newfound appreciation for the neon charm of the city. Propelled by his vision to articulate and illustrate the various sounds, temperatures, and pulsating electricity of bustling cities, Portela's images stir the imagination and set stories of intrigue and possibility adrift.
"Glow is a collection of cities captured by night where the colors try to activate the brain in order to reproduce the variables you don't have on a photo, such as temperature, noise, motion," the photographer says. "So yes, of course, Tokyo is not that pink or purple in reality, but it feels quite like it. Glow is what you remember instead of what you've seen of a place."
This synesthetic-like approach of Portela's was aptly displayed in the artist and filmmaker's most recent subject and addition to the series: Kyoto. Having shot prior works of Glow in vibrant metropolitan cities such as Tokyo, Seoul, Chicago, and Dubai. Kyoto offered the photographer its own unique charm and remembrance of the emergence of the vision for the project.
"The initial idea behind this series came from a frustration after capturing night scenes of Tokyo a few years ago," Portela tells PetaPixel. "In July 2014, I discovered Tokyo for the first time and I was overwhelmed by the city's atmosphere.
"When I came back home, I went through my photos but ended up disappointed by the results. I couldn't reproduce that feeling you get when you are in the middle of the street, of the chaos with all those people around you, the noise, the temperature, the electricity. This overwhelming atmosphere wasn't there anymore."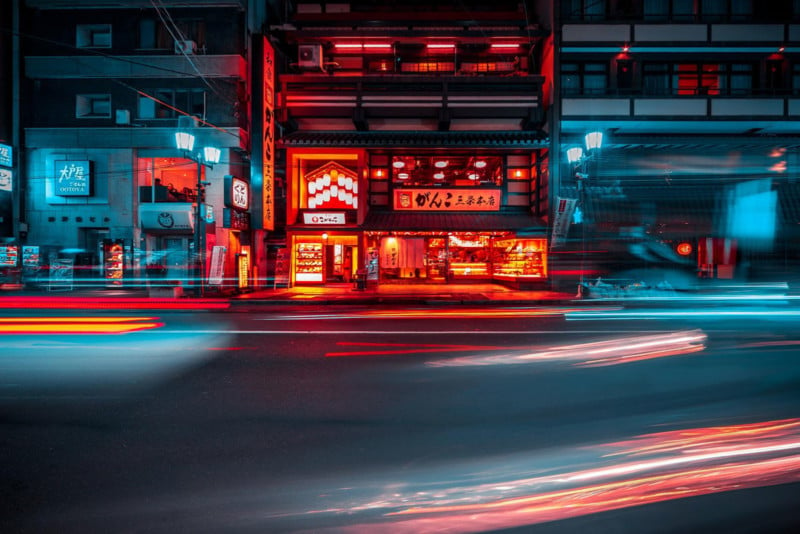 "When you are taking photographs on the streets you have way more than just a frame, you have variables like temperature, noise, people, and smell. You have tons of details that make our senses and brain record a specific 'scene' of that moment. When you get home and you look at your photographs on screen, you only have a frame in two dimensions. It's frustrating how much information you just lose."
The Brussels-based artist formerly worked in multimedia and web development. Photography was a passionate side hobby for Portela, but in 2012 he left his daily job to focus full-time on the discipline and craft.
"I left because I didn't want to spend my life sitting behind a computer, I wanted to travel and to create for myself, not for someone else," he says.
In his wanderings and journeys through buzzing streets and sidewalks and gleaming neon-lit architecture, Portela mastered the skills to help him translate to visuals his feelings of the overwhelming atmosphere of cities.
"The composition itself is just a matter of being patient, finding the right place, being there at the right time, and taking time to capture all the interesting moments of that location," the photographer says. "It's only after that, that you will start exploring all the creative possibilities during the post-production.
"When you do it at a bigger scale, finance becomes also a challenge, most of my Glow collection is first self-financed (travel costs mainly), and I start all my personal projects without knowing if it will pay back at a certain point in time. I guess that's why you call those projects 'passion projects'."
As for equipment, Portela's workhorses are Canon 5D series DSLRs.
"I'm still using the 5D Mark IV a lot but more recently I've been working with the Canon R5," he says. "In the future, I would like to explore the digital medium format but those are really expensive, especially if you have to buy the lenses with it."
Each new city Portela shoots further engulfs the photographer into a flurry of creativity and inspiration, which yields satisfying results.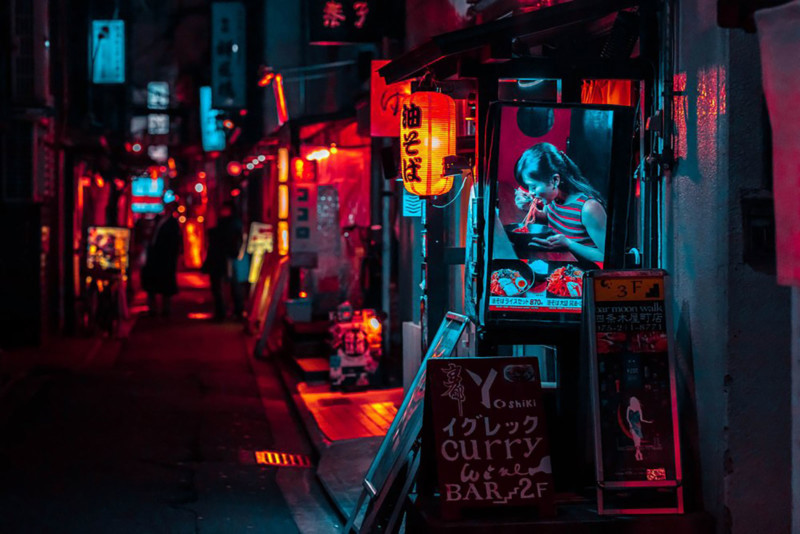 "I'm still exploring the process while discovering new places," Portela says. "If you take the original series from Tokyo, the colors helped me to get back all the variables like the sound, the temperature, the noise, the atmosphere, and the vibe of the location. Glow is about how your brain remembers the place instead of how your eyes saw it. Now one of the variables that I didn't include when I started this project was: time. Now I almost always use multiple pictures from the same location to compose one image. It helps freeze the motion going on around me.
"Sometimes it can be an hour of motion squeezed into one frame. Recently I've been exploring how to apply the same idea in video. So yeah, creatively this project still inspires me today. Because the idea itself is about producing more vibrant visuals rather than just playing with colors."
Portela is committed to creating memorable images that prompt emotion, whether negative or positive. Fortunately for Portela, Glow has received more of the later response.
"Since the initial Tokyo Glow series, a lot of people have shown appreciation for this project," he says. "A couple of people have sent me messages to thank me for shooting their cities, which was unexpected but really nice to read."
More travel is on the horizon for Portela, and he's excited to see what new cities will entice his senses and the images that will follow.
"I'm going back to Japan at the end of this year, now that the borders are open. So I'll probably publish some new work!"
For more from Portela, make sure to visit his website and Instagram
---
Image credits: Photographs by Xavier Portelai